Lions Go
Lions Go! Help Lion Cubs to reach Home Cave safely
- just a traditional diced board game, but played without dice
- large, rollable gaming mat, suitable to play on the table or ground
- waterproof, easy-care and durable gaming mat
- new way to play, no necessary to throw a dice
- variety of gaming mats and sizes available
- family-friendly, travel friendly
- begin to play within 30 seconds!

The Lion Cubs are travelling home. Get them safely to their Home Cave. There are a lot of dangerous places on the route and the small lions may have to begin their journey from the Start again.
This game has clear possibilities to become next hit in the field of board games. It offers lots of fun for any age players, possibilities to develop new skills in mathematics and tactics, yet is enough simple for any member of family. Youngest players can be helped and conducted a bit to keep on the route. Our age suggestion is 3 + because of smaller parts included.
The package includes:
- Gaming mat, anti-slip bottomed polyester fabric (OEKO Certified)
- 4 x 4 pcs Lion Cubs pawns (4 sets in different colors); available with (1) lion-shaped wooden pawns or (2) round pawns with lion-pictured stickers
- Manual
Age preference 3+
2-4 players
Gaming time 20-40 min
CE EAN
Gaming mat 75x75 cm
Package 77 x ø 8 cm
Release date: 1.3.2019
MSRP US$23.90 worldwide (VAT 0%)
RRP € 23.90 inside EU (VAT 20%)
Packed into Lions Go tube case 77 x ø 8 cm :


Manual UK

Order Lions Go! -game 75x75 cm mat, price 19.90 € + VAT
Order Lions Go Board Game, size 30"x30" from USD23.90 :

Lions Go! is also available in a mini size, with gaming mat or as a magnetic bottomed travel version. Magnetic version keeps the tokens in place in motions (in the car, train, plane – you decide).
Special Orders:
Lions Go! is available as a tailored project for special occasions or client groups. Suitable for educational institutions, private clients, stuff members as souvenirs, business gifts or for sale in hotels, airplanes, trains, busses, stations and etc. An innovative production technology gives a lot of opportunities to integrate brands, logos and etc. both in the gaming mat and game body. Suitable for any business fields, educational organizations and institutions.
More information
here
.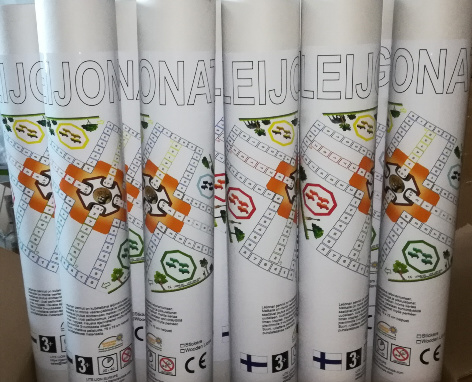 Packing tubes (Finnish)